About the Artist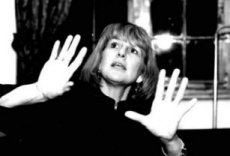 Photo:Hannes Pieterse
Artist Statement
Discovering a painting from the valleys of my imagination and capturing it on canvas, is like delivering a message ordained from a Higher place. A force flows through me gently, pointing out the destined forms, textures and colors. The making of art restores the fragmented distance from my South African shore.
The Artist: Clarabelle van Niekerk
Born in 1952, from Afrikaans descent; Studied at the Universiteit van die Oranje Vrystaat, Bloemfontein, South Africa; Toured Europe as cellist for The Free State Orchestra; Art Lecturer at Zwelitsha Art College, King Williamstown; Founder of The London Puppet Theatre; Resident Artist for Erie Council of the Arts; Winner of many International awards (including Grammy award for Best CD, Perry Cumberland Excellence in Puppetry Award, Educator of the Year Award, Book Cover Awards) Exhibits in North America and abroad; Currently resides in Meadville, PA, USA.
Exhibitions
MC GREGOR GALLERY, Johannesburg, South Africa
IMAGES, Geneva, Switzerland
SOUTHWESTERN ART, Taos, New Mexico, USA
ASHWOOD DUNWOODY GALLERY, Atlanta, Georgia, USA
GLASSGROWERS GALLERY, Erie, Pennsylvania, USA
GRIFFON GALLERY, Cleveland, Ohio, USA
THE KENNEDY GALLERY, Key West, Florida, USA
COTTAGE EDITIONS, Carmel, California, USA
THE LONG TABLE GALLERY, Victoria, Australia
RAWSTYLE, Santa Monica, California, USA
CARPE RACI, Cleveland, Ohio, USA
MUSEUM OF FINE ART, Erie, Pennsylvania, USA
MEADVILLE FINE ART GALLERY, Meadville, Pennsylvania, USA
THE SEWICKLEY GALLERY, Pittsburgh, Pennsylvania, USA
EUROP'ART GALLERY, Pittsburgh, Pennsylvania, USA
ADAM'S ART GALLERY, New York, NY, USA
ALBRIGHT-KNOX ART GALLERY, Buffalo, New York, USA